Joined

Jul 18, 2019
Messages

175
Reaction score

150
Points

43
Location
Grill

Pro 34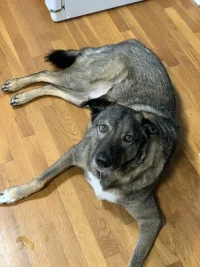 Decided to try brining a pork butt on a cook that didn't matter. Also decided not to crutch it as I did not have a hard time frame to meet.
Brined for 24 hours, ingredients included kosher salt, brown sugar, onion & garlic powder, chopped garlic, cracked black pepper, and a little sage & cumin.
Slathered in mustard and rubbed down. Went on at 11:30 last night, came off just before 4pm today. Let it run at 225 until I cleared the stall, then bumped it to 250 to finish. Pulled at 200 IT, & glad I did, as I barely got it off in one piece.
& one gratuitous shot of my smoking buddy, hoping I dropped something as I wrapped it for the rest. I'll get a shot of the ring when I pull it later, and give a postmortem on whether the flavor is enhanced by the brine.