Joined

Jul 18, 2019
Messages

147
Reaction score

85
Points

28
Location
Grill

Pro 34
Note:
I didn't purchase this 'brisket' only cooking for a friend
I can't figure out if it is the flat or point muscle. Packaging does not indicate, only labeled 'Morton's of Omaha Texas Style Beef Brisket' ..... we also know that isf false as no self respecting Texan would slather a brisket in anything other that salt, pepper, & if no one is looking, garlic.
Tried calling the brand, no phone number. Called the manufacturer (Cargill), closed for the 4th. Called Aldi & confused the customer service girl.
You are looking at the top. There is nothing that I would call a fat cap. A little patch of fat in the middle, less than 25% coverage.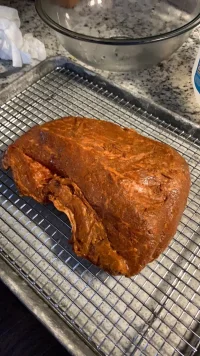 So, give me your best guess, Flat or Point?